2021 Acura NSX at Stockton Acura
Stockton Acura introduces the flagship supercar: 2021 Acura NSX, at Stockton Acura. This is the supercar to rule them all. Its supreme power comes from sophisticated creators of motion: a 3.5L DOHC Twin-turbo V-6 and a direct drive electric motor. The gargantuan horsepower created by this hybrid duo is poetically delivered via the harmony of hard-hitting torque, seamlessly smooth shifts, and empowering exactitude. The responsible parties for such perfection are the power drive unit, the twin motor unit, and the intelligent power unit. Working in conjunction with the 9-speed dual-clutch transmission and the Sport Hybrid Super Handling All-Wheel Drive, you'll feel all 573-hp and 476 lb-ft of torque whenever you want the true supercar experience in the 2021 Acura NSX, for sale in Stockton (at Stockton Acura). The 2021 Acura NSX, for sale in Stockton (at Stockton Acura), is an engineering marvel that achieves naught to 60 in under three seconds, 2.7 to be precise, and a top speed of 191 hp.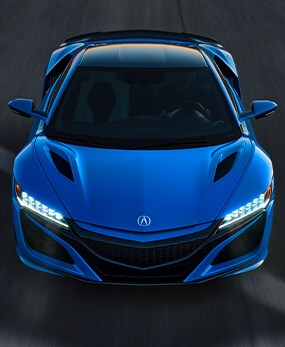 NSX-terior
The exterior of the NSX sits atop a multi-material space frame. That's the foundation for every body panel. Every curve, line, swoop, vent, and angle have a purpose. Sculptural wheel well vents are just the beginning. The 2021 Acura NSX, for sale in Stockton (at Stockton Acura) incorporates Total Airflow Management. What it looks like is aggressive venting all around, but what it means is aggressive efficiency that welcomes cool air, then recirculates that air to allow cooling to other parts of the NSX' components, as well as increased aerodynamics. The signature Y-Spoke wheels are light yet strong, and beautifully complement the iron rotors with black calipers. For really aggressive brakes and looks, go for the optional carbon-ceramic rotors with red calipers. Select from one of ten colors, all of which go through multiple stages of application, in-house curing, and individual quality assurance, for depth and shine that are unparalleled.
NSX-quisite Interior
It's important to discuss how the perfectly crafted 2021 Acura NSX, for sale in Stockton (at Stockton Acura), reflects the intentions of the driving experience. Turn the dial to select the driving mode, and experience the adaptive nature of the 2021 Acura NSX, for sale in Stockton (at Stockton Acura), even from within the cabin. Choose from the calmest of driving experiences with all-electric mode (which even changes gauges to blue, and prioritizes a quieter interior), to a track mode which illuminates gauges to an aggressive red and lets the engine's noises roar through the cabin, for a true track experience. Whether on the track or in your neighborhood, the seats Alcantara inserts keep you in place, while leather bolsters make getting in and out easy, due to the decreased friction in the materials. The steering wheel is designed to give you an unobstructed view, and even has finger indents that so finely give your hands a home, it'll be hard to ever leave.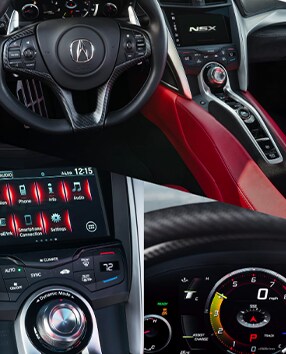 Stockton Acura
To be a supercar requires performance, design, and execution that isn't for the faint of heart. But to be an NSX requires achieving standards that only Acura can uphold. Stockton Acura is proud to offer the 2021 Acura NSX, for sale in Stockton. There is a lot more to the 2021 Acura NSX than we've said here. Stockton, Elk Grove, Modesto, and Sacramento customers, we are excited to talk to you about the 2021 NSX. Give us a call, send us an email, or come by, and you'll see for yourself why the 2021 Acura NSX is in a league of its own.