WELCOME TO LUXURY.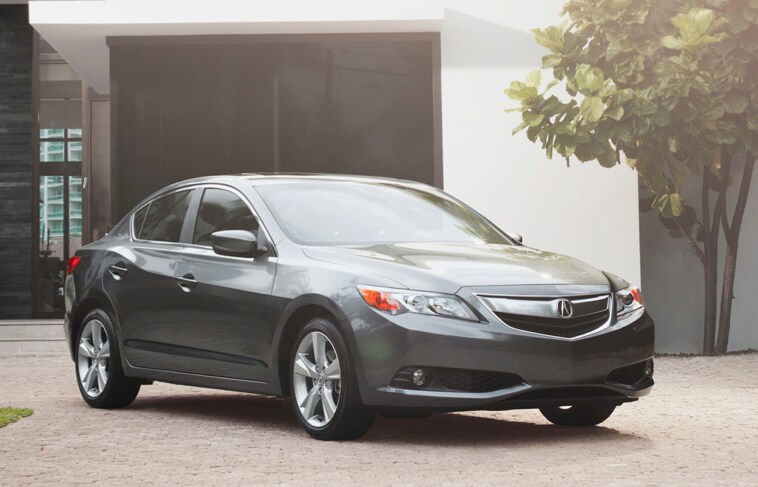 SUCCESS BRINGS WITH IT MANY THINGS. SHOULDN'T FUN BE ONE OF THEM?
With three powertrain options, the ILX gives you ample opportunity to inject a little more fun into your day.
This is anything but basic transportation. And it starts the moment you start the engine. The 2.0-liter 4-cylinder engine in the ILX features Acura's i-VTEC® variable valve technology to help wring the most enjoyment from its 150 horses, all while helping deliver a 35 mpg high- way fuel economy rating. *
The 201-horsepower engine in the ILX 6MT promises even more thrills. Its all-aluminum construction enhances the vehicle's weight balance for better handling and agility.
The ILX Hybrid mates an efficient 1.5-liter engine with a powerful electric motor to generate plenty of acceleration and help achieve mpg ratings of 39 in the city and 38 on the highway. *
*. Based on 2014 EPA mileage estimates, as applicable. Use for comparison purposes only. Your actual mileage will vary, depending on how you drive and maintain your vehicle, driving conditions, battery pack age/condition (hybrid only), and other factors.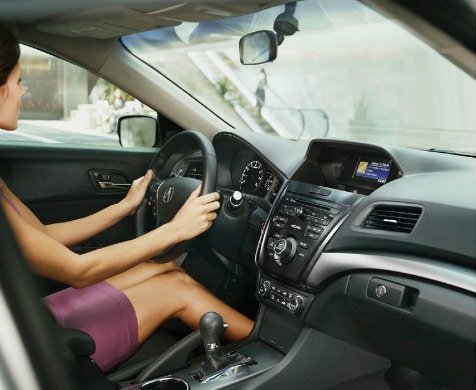 WITHOUT A MEANS TO HARNESS IT, POWER IS ONLY POTENTIAL.
Each ILX model features a transmission per- fectly suited to make the most of engine output.
The ILX converts horsepower into forward movement with a 5-speed automatic trans- mission. Those desiring more involvement can take advantage of the Sequential Sport- Shift paddle shifters to manage the transmis- sion's shift points.
The ILX 6MT features a close-ratio 6-speed manual to let you get the most power out of the vehicle's high-revving engine.
The ILX Hybrid features a Continuously Vari- able Transmission (CVT), giving the vehicle a steady climb in acceleration from a standing start up to cruising speed, helping to enhance its fuel efficiency.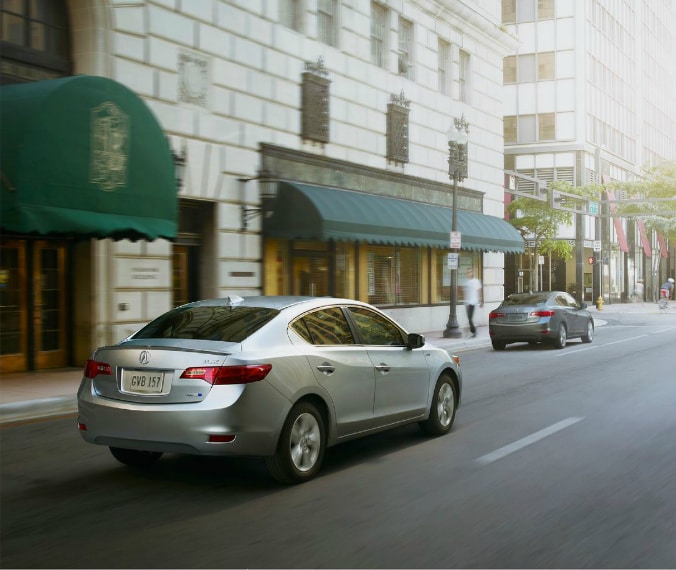 HYBRID TECHNOLOGY THAT CAN EVEN MAKE YOU MORE EFFICIENT.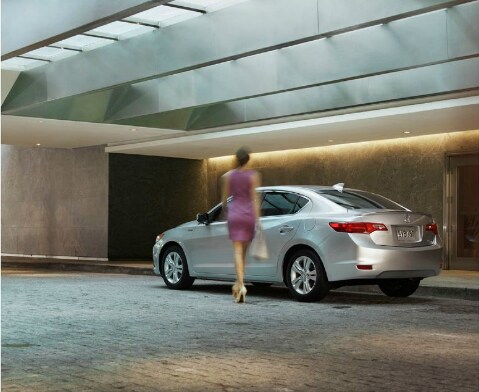 The ILX Hybrid is designed to produce great fuel economy efficiently. And with a little help from you, it's even better.
Advanced technology is only part of getting good mpg num- bers. The other side of the equation is the person in the driver's seat. The ILX Hybrid features a Fuel Economy Indicator to give youreal-timefeedbackonyour
driving style to help you drive more efficiently. You can also push the dash-mounted ECON button and the engine and trans- mission will both operate more efficiently to help you further maximize your fuel economy. *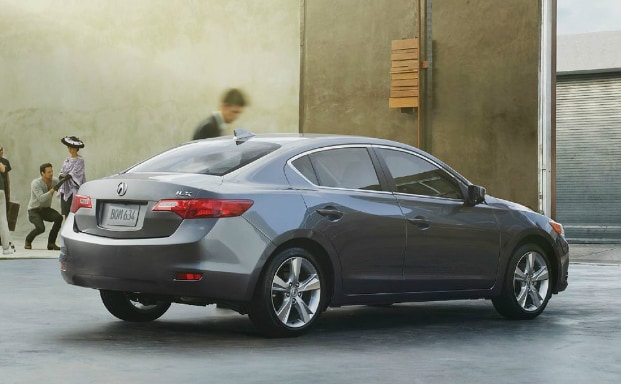 THE ILX WAS DESIGNED FOR THOSE WHO THINK LIFE SHOULD CONSIST OF EQUAL PARTS RESPONSIBILITY AND FUN.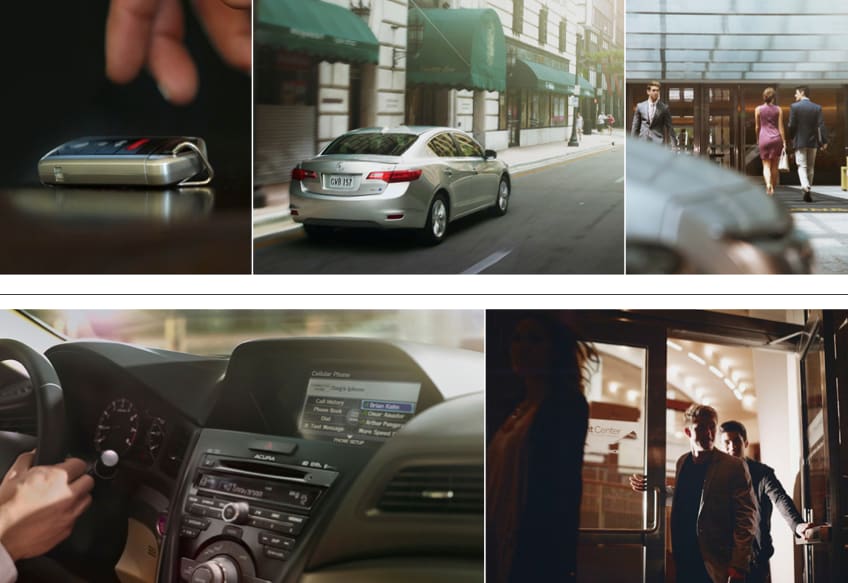 ITS CLEAN LINES, CRISP PERFORMANCE AND CUTTING-EDGE TECHNOLOGIES HELP THE ILX MEET THE DEMANDS OF YOUR DAY. AND YOUR EVENING.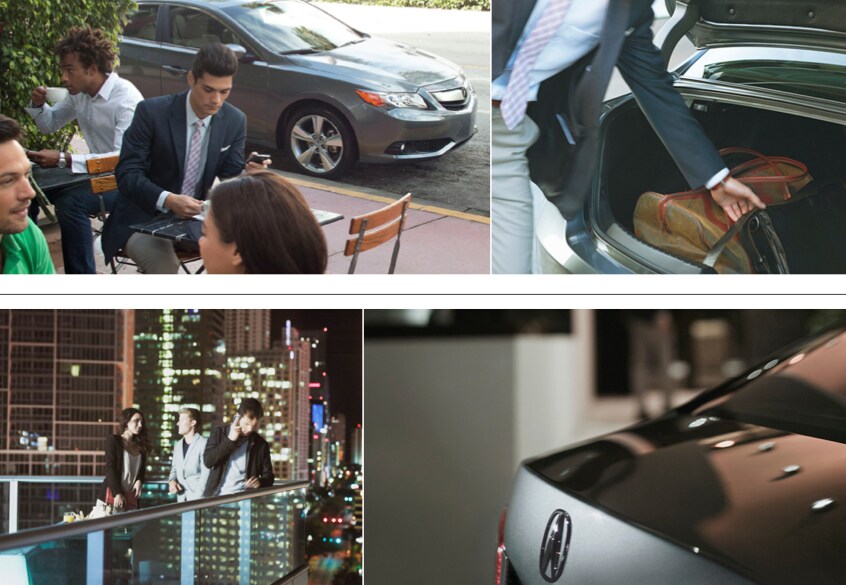 NEVER UNDER- ESTIMATE THE IMPORTANCE OF LOOKING THE PART.
While the machined creases of the sheet metal are as crisp as a well-tailored business suit, other design features speak to the sportier side of the ILX.
Lines that taper toward the rear of the vehicle create wide rear wheel overhangs, giving the ILX an aggressive stance. Details like projector-beam halogen (or available xenon high-intensity discharge) headlights add to the vehicle's modern appearance.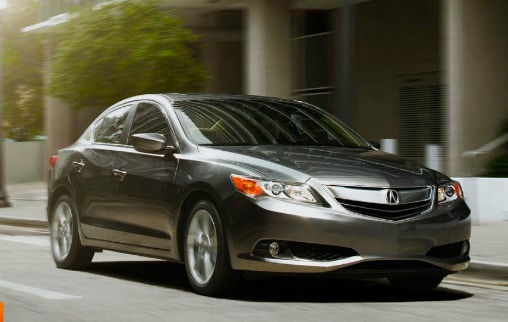 YOUR VERY OWN TAKE-IT-WITH-YOU MICROCLIMATE.
Outside, climates fluctuate with the weather. Inside, they conform to your desires.
The dual-zone climate-control system features a patented humidity control for ideal comfort. A GPS-linked, solar- sensing climate-control sys- tem is also available. It tracks the sun's relative position and intensity and automatically adjusts to compensate.
Active Sound Control (included on select models) helps keep excess engine noise in check. It can detect unwanted engine noise and emit opposing frequen- cies to literally cancel it out. Along with extensive soundproof- ing, it contributes to the sanctu- ary-like feel of the ILX cabin.
LUXURY THAT BEGINS WITH MATERIAL COMFORT.
Inside the cabin of the ILX, special atten- tion has been given to areas of contact.
Go ahead, get comfortable. It's all there for you. Every touch point crafted to enhance the experience. Available fea- tures include a leather-trimmed interior, heated front seats and power adjust- ments for the driver's seat (all included with the ILX 6MT).
The steering wheel, shift knob and hand brake are also wrapped in leather, fur- ther adding to the cabin's luxurious feel.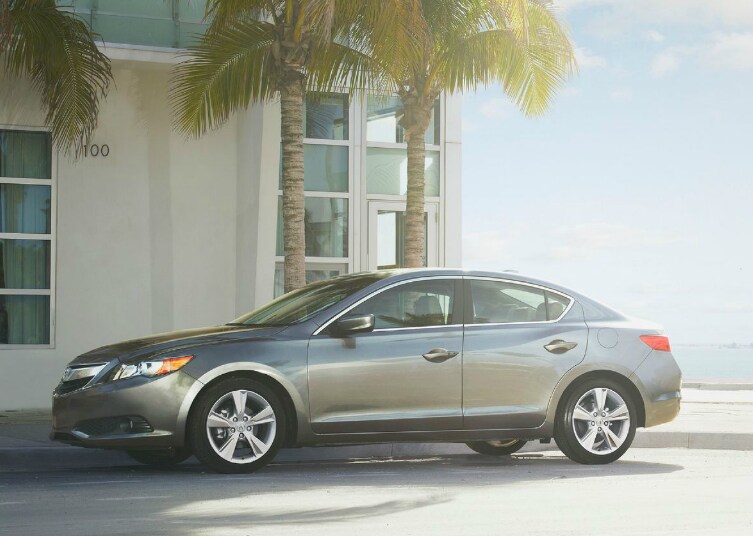 FOR AUDIOPHILES, THIS IS TRULY AN AGE OF OPTIONS.
The ILX is on the cutting edge with features like a Pandora® internet radio interface,5 USB audio interface6 and available XM® Radio.7
A great drive deserves a great soundtrack. The vehicle's 415-watt Acura/ELS Surround® Pre- mium Audio System, available with the Technol- ogy Package, lets you store more than 3,500 songs on the vehicle's hard disk drive (HDD).
The ELS system also features Song By Voice® technology that lets you verbally call up your music based on song, artist or album.
SPORTIER DESIGN. THE PERFECT ACCOMPANIMENT TO SPORTIER PERFORMANCE.
Exclusive features and technologies both under the hood and inside the cabin help strengthen the connection between car and driver.
Designed to complement its larger engine and 6-speed manual transmission, the cabin of the ILX 6MT has been outfit- ted to appeal to the driving enthusiast. The seats, steering wheel and door panels feature special stitching.
The pedals are drilled alumi- num. Gauges glow red. It's all meant to evoke the more spirited nature of this model. A quality that the quick accel- eration and specially tuned exhaust note are also quite adept at keeping top of mind.
FUN'S GROWN UP A BIT.
THE THREE DIFFERENT ILX MODELS GIVE YOU PLENTY OF OPTIONS TO 
CHOOSE FROM.
WHAT THEY ALL SHARE IS THE IDEA THAT FUN, LUXURY AND EFFICIENCY CAN ALL COMFORTABLY COEXIST.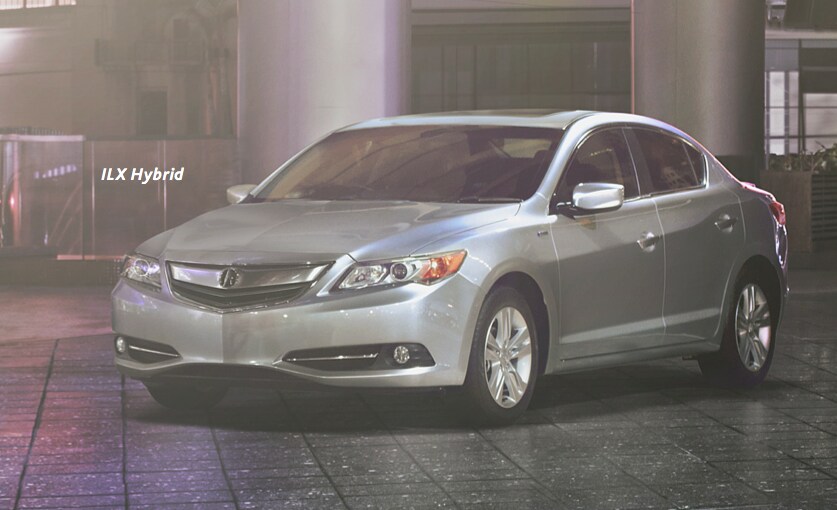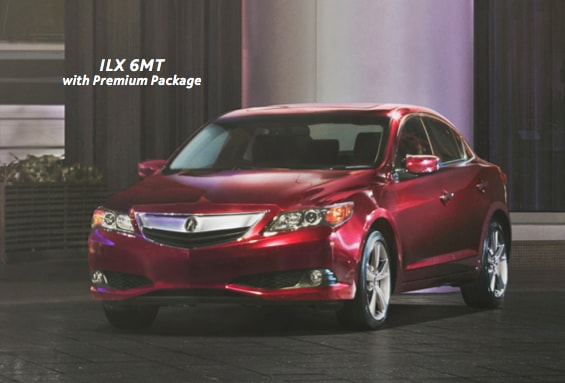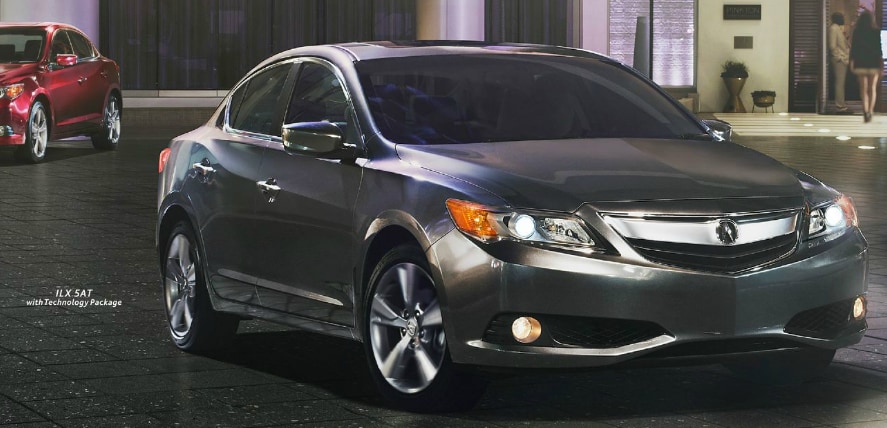 THE ILX DISTINGUISHES ITSELF NOT ONLY WITH ITS LIST OF FEATURES, BUT ALSO IN THE CARE THAT GOES INTO EVEN THE SMALLEST CONSIDERATIONS.
HOW A BUTTON FEELS WHEN PUSHED.
HOW VITAL INFORMATION IS COMMUNICATED TO THE DRIVER. LUXURY TRULY IS IN THE DETAILS.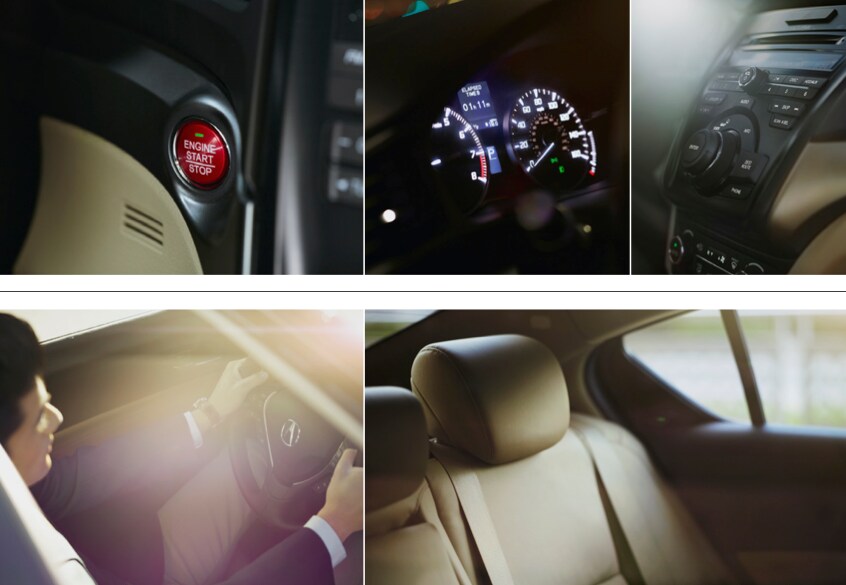 01 PUSHBUTTON IGNITION / 02 INTELLIGENT DISPLAYS / 03 INTUITIVE CONTROLS / 04 ONE-TOUCH POWER MOONROOF / 05 AVAILABLE TAILORED LEATHER SEATS
IT CAN EVEN HELP YOU FIND A WORTHY DESTINATION.
The available voice-activated Acura Navigation System features a database containing over 7,000,000 points of interest as well as Zagat Survey® restaurant reviews.
While part of the job of a luxury vehicle is to produce an enjoyable ride, its primary function is to get you where you're going. Once you've found your fun you can even call ahead for a reservation through a connectedBluetooth-enabledcellphone.2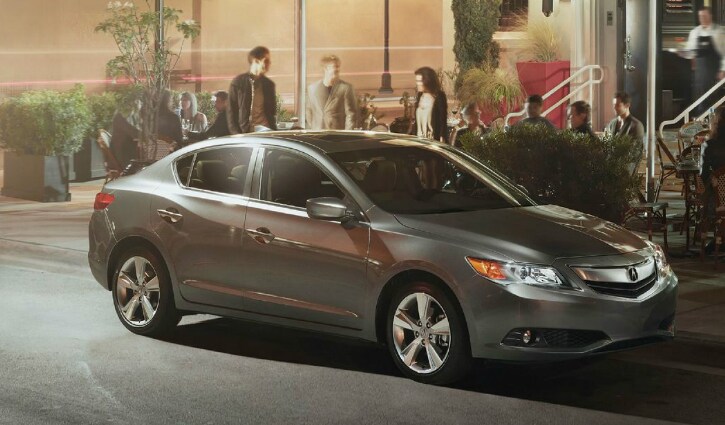 ACCOMMODATING. EVEN BEFORE YOU CLIMB IN.
Upon your approach, the Keyless Access System will recognize you and let you unlock the door with the touch of the handle.
The system is also linked to your personalized settings, memorizing your door lock and lighting preferences. The remote control also lets you open windows and the vehi- cle's moonroof at the touch of a button before you enter.
The Expanded View Driver's Mirror gives you a better look at vehicles passing or being passed, while the available multi-view rear camera helps you know what's behind when backing up.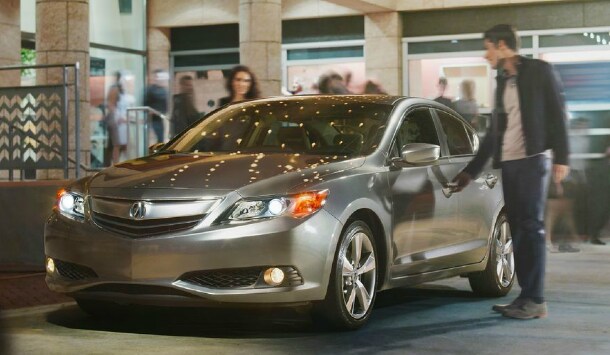 A LUXURY VEHICLE SHOULD BE JUDGED ON AGILITY AS MUCH AS ON A SMOOTH RIDE.
The suspension system aboard the ILX easily handles both of these requirements.
It is a balancing act in more ways than one. While the vehicle's suspension system provides a flat ride through the curves, it also strikes the perfect equilibrium between sport and comfort.
The ILX features a 4-wheel independent setup that includes Amplitude Reactive Dampers specially designed to help eliminate the small vibrations caused by rough roads.
The electric power-assisted rack-and-pinion steering adjusts to vehicle speed, allowing the steering feel to match driving conditions, giv- ing the driver more tactile responses.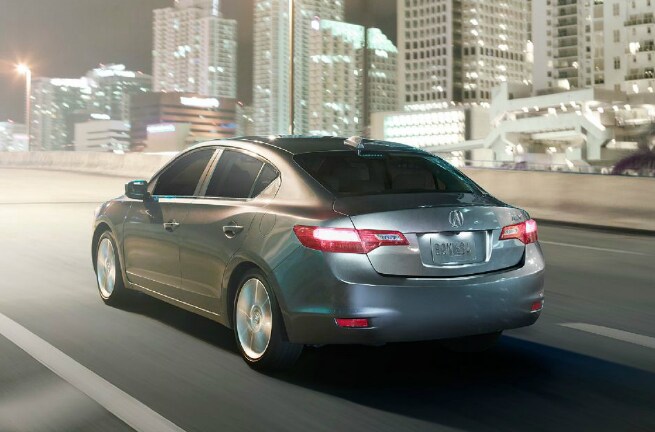 WHY EVERY VEHICLE WE BUILD FEELS LIKE AN Acura.
Some of the features that make the ILX so much fun to drive also help contribute to passenger safety.
The vehicle's stiff chassis provides a firm foundation for nimble handling. It also features Acura's Advanced Compatibility EngineeringTM (ACETM) body structure, which uses a connected network of structural ele- ments to help protect those inside by dis- tributing frontal crash energy more evenly.
Vehicle Stability AssistTM (VSA®) can sense potential understeer or oversteer and brake individual wheels and/or adjust engine speed to help keep you on your intended path. The system also features motion- adaptive steering, which can prompt the driver to steer in the correct direction if it senses instability.